About Atlas Olive Oils
Atlas Olive Oils win Awards! | Sophie in the Souk | About the Olive Oil
Terra Rossa is proud to announce that it has expanded its award-winning range to include two new premium extra virgin olive oils from Morocco: Desert Miracle and Les Terroirs de Marrakech, reserved especially for those who are passionate about ultra premium olive oils.
Excellence can only be achieved when a product brings out with itself the culture of a people besides its intrinsic qualities. Atlas's extra virgin olive oils are the culmination of passion and commitment of the Aqallal's family to produce two ultra premium extra virgin olive oils that express the best of pure Moroccan culinary culture around the world.
Atlas Olive Oil Brochure
For details information about Atlas Olive Oils, please click here to download the brochure.
Atlas Olive Oils win Awards!
2011 Great Taste Awards. Les Terroirs de Marrakech wins another 2 star Great Taste Award.
2010 Great Taste Awards. Les Terroirs de Marrakech wins another 2 star Great Taste Award.
2009 Great Taste Awards, 2 Star Gold for Les Terroirs de Marrakech.
Les Terroirs de Marrakech wins a 2 Star Gold Great Taste Awards, one of the most presitgious awards in the UK which is awarded by the Guild of Fine Food.
JUNE 2009 - 1st rank for ATLAS OLIVE OILS at the LEONE DORO dei MASTRI OLEARI international competition held in Milano
Atlas Olive Oils has been awarded the -Grand Mention Diploma- by the XVIII International Award LEONE DORO DEI MASTRI OLEARI in Italy. Our oil was in competition with the best and most balanced italian, spanish and greek olive oils.
This Competition is organized yearly by a Corporation of Italian olive oil Masters.
Winning such an Award in Italy, the country where olive oil is at its best, is a real satisfaction for the AQALLAL Family.
JUNE 2009 - 2 GOLD MEDALS for DESERT MIRACLE and LES TERROIRS DE MARRAKECH won at the LOS ANGELES International Olive Oil Competition
ATLAS OLIVE OILS confirm their outstanding quality by winning 2 GOLD Medals at the famous international competition held at LOS ANGELES.
Each of DESERT MIRACLE and LES TERROIRS DE MARRAKEH won a gold medal.
MAY 2009 - DER FEINSCHMECKER includes DESERT MIRACLE and LES TERROIRS DE MARRAKECH in their annual ranking
The famous German Food magazine, Der Feinschmecker, selects Atlas Olive oils among the best olive oils in the world (the preliminary selection included 1800 olive oils from Spain, Italy, Greece, Portugal, Latin America and South Africa).
MAY 2009 - MARIO SOLINAS Award - 3rd place at the world most prestigious olive oil Competition held in Madrid by the IOOC
Atlas Olive Oils won the third prize of MARIO SOLINAS (organized by the IOOC, International Olive Oil Council) for the quality of its exceptional oils. This makes our oil the 3rd best olive oil in the world for the year 2009 (category green fruitiness).
Our oils have been selected amongst 92 olive oils coming from the best groves and mills of Spain, Italy, Portugal, Greece, Chile and Argentina.
APRIL 2009 - OIL CHINA - international olive oils competition held in SHANGHAI: Quality Mention for LES TERROIRS DE MARRAKECH
The 4th OIL CHINA International Olive Oil Competition held in shanghai awarded LES TERROIRS DE MARAKECH the -Quality Mention- Prize for its exceptional fruitiness, a remarkable well-balanced olive oil.
MARCH 2009 - ATLAS OLIVE OILS REWARDED BY THE INTERNATIONAL CONTEST -TRENDS AND INNOVATION SIAL MONTREAL 2009- FOR THEIR INNOVATIVE CHARACTER.
Canada's most reputed food show, SIAL MONTREAL, awarded ATLAS OLIVE OILS for their innovative character. Transforming a rocky desert into an oasis is recognized as a rare and innovative initiative. An olive tree is like a grape tree, it needs to suffer to produce the best of itself. It is in the desert hard conditions that olive trees concentrate their soul and energy on producing olives and only the best quality olives. A grand cru olive oil is only obtained with exceptional olives.
Return to top
Sophie in the Souk
Pixelle Limited has recently announced the launch of their new series for the Travel Channel called "Sophie in the Souk" featuring Sophie Grigson and Khalil Abdesslem, owner of Nomades Moroccan Recipes.
In this funny and dramatic new series Sophie and Khalil explore Moroccan and North African cuisine and the best of Moroccan extra virgin olive oil at the Atlas estate.



To view the episode click here.
Return to top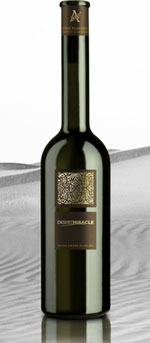 From the pressing of the best Arbequina and Dahbia olives comes a golden olive oil verging to green, with a well-balanced taste and complex profile. Harvested at the end of September to beginning of October, just when the olives are changing colour from green to black and are still rosy, the fruitiness of ripe olive is clearly identifiable in nose and mouth with a great diversity of secondary aromas, above all apple and banana. It also has hints of other ripe fruit like almonds, tomato, fennel and artichoke. In the mouth it reminds of almonds, its sweetness stands out a little, as well as its astringency that does not interfere with its profile. The result is a very well balanced and harmonious oil with a clear touch of sweetness that is characteristic of the variety. Desert Miracle is Atlas's ultra premium extra virgin olive oil of character that surprises the most demanding palates with its special fruity notes.
SERVING SUGGESTIONS: A rich taste that matches well with all dishes
Although quite flavorful, this Dahbia-Arbequina blend compliments rather than over-powers the foods it is served with. Whether they are fresh or cooked vegetables, fish, poultry or meat, Desert Miracle adds a highly flavorful taste and distinctive peppery finish you won't forget.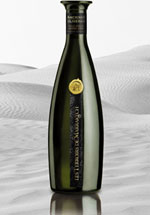 This invaluable oil, with a limited production of 25,000 liters, comes from a manual selection of the best Picholine du Languedoc olives. It is well balanced, almost a sweet early harvest oil with a fresh herbal taste. It features mild fruit, green apple and artichoke notes, and has a distinctive peppery finish. Les Terroirs de Marrakech Aqallal selection is an exclusive product with a genuine taste retracing the story of its terroir to the nose and palate.
SERVING SUGGESTIONS: A touch of Morocco in your dish
Native to Provence, Languedoc, and Corsica, this fine specimen olive variety oil is ideally served as a dipping oil. It is also delicious poured over salads or served with lightly sautéed vegetables, drizzled on plain or wild rice, Risotto or rice pilaf. However it is, this excellent extra virgin olive oil adds a refined touch to your favorite dishes.
Return to top