2007 Great Taste Awards
Terra Rossa Wins
yet another 3 Gold Great Taste Awards
Terra Rossa, producers of the award-winning Zait & Zaatar (Arabic for olive oil and thyme mix) range of products from Jordan, are absolutely thrilled to announce that they have won yet another three prestigious Gold Great Taste Awards from the Guild of Fine Food of Retailers.
Each year, almost 4,500 foods are blind-tasted by up to three separate teams of experts before the awards are made. Since May of this year, there's been nearly two weeks of tasting by over 400 independent judges and up to three separate teams of experts, resulting in 530 Great Taste Awards given out for excellence in taste, texture and flavour.
The 2007 Award-Wining Terra Rossa products are:
1. Zaatar Oat and Cheese Bites - 2 stars GTA: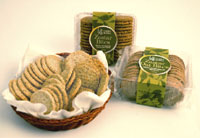 Terra Rossa's Zaatar Oat Bites are savoury biscuits made from the best oats and cheese in Scotland and the finest award-winning first cold pressed Evoo extra virgin olive oil and Zaatar herb mix from Jordan. The Zaatar Oat Bites are hand baked for extra care and prepared in small mixes in a slow fashion to allow the different flavours of Zaatar which are primarily thyme, sesame seeds and sumac, to soak in and blend with the oats, cheese and olive oil.
Zaatar Oat Bites provide the perfect healthy snack for lovers of fine food who are health conscious, combining not only the cholesterol reducing properties of both oats and extra virgin olive oil, but also the excellent anti-fungal, anti-biotic and anti-microbial properties of Zaatar.
Because the Zaatar Oat Bites are made with extra virgin olive oil, the biscuits are moist and yet still crunchy and crumbly in one's mouth. They are ideal on their own as a healthy snack, superb with cheddar or cream cheese, excellent for dipping in any of Terra Rossa's Zait & Zaatar, and for dunking into houmous, Greek yoghurt etc...
2. Lemon Infused extra virgin olive Oil - 2 stars GTA: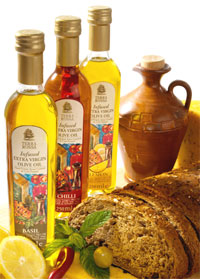 To obtain an all-natural blend, Terra Rossa's Lemon Infused oil is made by stone crushing the very best of freshly picked lemons and the finest of half-green half-black olives from Jordan.
For the oil to have that intense lemony flavour and aroma, at least 250gms of lemons are used to produce a litre of the infused oil.
The lemon oil is great for dipping with Terra Rossa's Zaatar thyme mix, for drizzling over fresh green salad and vegetables, for marinating with fish and chicken, or for simply brushing on when grilling or barbequing for that incredible flavour. It is also sweet enough for use in baking cakes and crêpe suzette.
3. The Evoo Oil - 1 star GTA: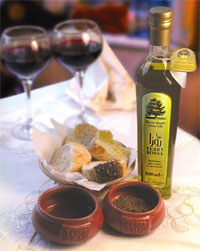 Terra Rossa's first cold pressed extra virgin olive oil (Evoo) is made from half-green hand-picked olives that are crushed with traditional granite stone. Using half-green half-black olives, quantity is sacrificed for quality, resulting in an olive oil that has higher quality nutrients, vitamins and antioxidants.
The olives are milled within 10 hours of being hand-picked, and the oil is extracted using natural cold processes in order to preserve the sensitive aromatic properties and polyphenols.
This oil is an excellent all rounder, be it for dipping with hunks of freshly baked bread, or drizzling over houmous, halloumi cheese and Greek yoghurt, or as a marinade to allow the exquisite flavour of the oil to dominate the dish.
Terra Rossa hopes to attract buyers from the independent, multiple, gift retailers, as well as pub/bars and restaurants who wish to incorporate the Zait & Zaatar into their menu be it as a starter or an appetiser, or to bake bread, pizzas and paninis or make zaatar fish or chicken with it.
Click here to learn more about Terra Rossa