Sophie Grigson in Jordan
- A Culinary Trek from Jerash to Aqaba
Entire Series now on YouTube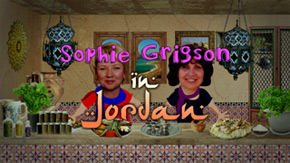 Did you miss the fantastic food travel programme 'Sophie Grigson in Jordan' co-starring Terra Rossa's own Hanan Samara?
We are delighted to announce that this is now on YouTube! The programme not only highlights some fabulous traditional Middle Eastern recipes, but also shows the beautiful sights of Jordan - well worth a watch!
An eight part series of cooking and travelling in Jordan
We are proud to announce that Hanan Samara, founder of Terra Rossa, had the pleasure of showing and cooking with Sophie Grigson, one of the best-selling cookery writers and celebrity TV chef, all around the Hashemite Kingdom of Jordan.
The adventures spans 8 half-hour episodes that premiered in the UK on The Travel Channel on SKY 251 on Tuesdays from 28th August at 19.30, for Europe and Middle East it premiered on Monday 13th August at 20:00 (CEST), and for Europe and Middle East HD on Monday 13th August at 19:30 (CEST).
This is a journey of discovery of a lovely country forming part of the Levant - the green crescent of the Middle East. Jordan is a Kingdom steeped in history and its rich heritage embraces you as you find remnants of ancient civilizations all around you. This culture-rich Middle Eastern country boasts locally grown fresh produce and warm hospitality that combine to make it a 'foodie' traveller's heaven.
Sophie and Hanan travelled the length and pretty much the breadth of this fascinating country meeting local people, tasting the cuisine and learning all about its wonderful and exciting culture. Hanan introduced Sophie to some amazing Jordanian specialities ranging from the unique Jameed dry yoghurt, the Zerb underground Bedouin cooking in the desert, and Mansaf the National dish which is based on lamb cooked with Jameed yoghurt, herbs, spices and served on a bed of rice mounted on bread. They tasted the delicious and diverse street food of Amman from Falafel and Kebabs to the trendy culinary cuisine found in modern restaurants along with myriad of Mezze dishes including Kibbeh Neyyah - a classic Middle Eastern Steak Tartare.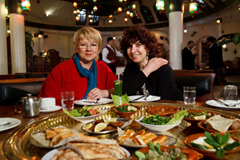 Starting in Amman, an ancient bustling and cosmopolitan capital, Sophie and Hanan ventured away from the capital to the famous Roman ruins of Jerash, the lush green mountains of Ajlun, then down to marvel at the dramatic Dead Sea and spas. The journey continued with a visit to the holy site where Jesus was baptised, the breathtaking Mount Nebo where Moses first gazed on the Promised Land, and then headed east to explore the famous desert castles and palaces of the Azraq desert. Following that they ventured south to the fabled Rose Red city of Petra (a UNESCO World Heritage Site), the desert canyons of Wadi Rum where Lawrence of Arabia rode out of the desert and into history, then finishing on the turquoise beaches of Aqaba where their culinary and cultural journey ends.
Jordan is a melting pot of cultures and nationalities from Palestine, Lebanon, Egypt, Iraq and Syria, Circassia and Armenia. Jordanian cuisine is traditionally enjoyed with family and is a mixture of Bedouin cooking which has been very heavily influenced by each of its resident's multicultural background. It is based on a Mediterranean diet and prepared mostly with olive oil and a variety of fresh produce that is grown locally with meat dishes being based on lamb, chicken or fish and eaten as part of a Mezze. Mezze could be anything from 5 dishes to as many as 50 dishes ranging from Taboula, Kibbeh, Houmous, Lebnah, Foul Mudames, Falafel, Manaqeesh, to mention but a few.
For further information please contact Hanan Samara on 020 8661 9695 or email info@terra-rossa.com