2008 Great Taste Awards
Another 4 Gold Great Taste Awards
for Terra Rossa
Terra Rossa, producer of five Award-Winning flavours of Zait & Zaatar (Arabic for olive oil and thyme) is proud to announce that they've won yet another 4 Gold Great Taste Awards for their:
1. Zaatar Oat Bites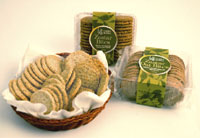 Terra Rossa's Zaatar Oat Bites are savoury biscuits made from the best oats and cheese in Scotland, the finest Gold Great Taste Award-Winning First Cold Pressed extra virgin olive oil and Zaatar thyme mix from Jordan. They provide the perfect healthy snack for the health conscious, combining not only the cholesterol reducing properties of both oats and extra virgin olive oil, but also the excellent anti-fungal, anti-biotic and anti-microbial properties of Zaatar. They are ideal on their own, superb with cheese and excellent for dipping and dunking with.
2. Glacé Fruits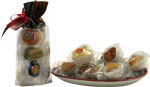 The Glacé Fruits are an assortment of the very best of fruits from the sunny and fertile hills of Jordan. At least 9 different fruits are available at any one time depending on the season: apples, pears, walnuts, orange, peach, figs, aubergines, citron, cactus fruit and apricots - all of which have been dried and then pickled in syrup.
3. Manna from Heaven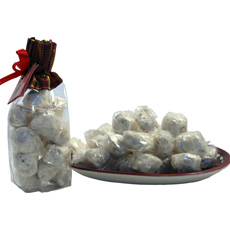 Mentioned in the bible, these are very special sweet as they are made from the resin of trees that only grow in Mosel in the north of Iraq. They are mixed with almonds, pistachio and cardamom and make the perfect accompaniment to a good cup of coffee or mint tea. Both the Glacé Fruits and the Manna are presented in elegant traditional draw string seethrough bags topped with traditional Jordanian cloth and make ideal gifts for all occasions.
4. Lemon Infused Extra Virgin Olive Oil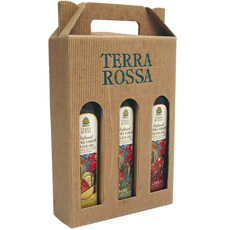 Terra Rossa oils are made from half-green hand-picked olives that are crushed with traditional granite stone and extracted using natural cold processes. Using half-green olives produces less oil but the olive oil made has higher quality antioxidants, nutrients and polyphenols. Unlike the Chilli and the Basil oils, the lemon oil is particularly special as it is made from olives and fresh lemons that are milled together. Terra Rossa offers their Lemon oil along with their bronze winners Basil and Chilli oils as a gift set in natural tri-bottle corrugated carton.
Terra Rossa hopes to attract buyers from delicatessens, farm shops and garden centres with fine food sections, gift retailers, as well as pub/bars and restaurants who wish to incorporate the Zait & Zaatar into their menu and serve it as a starter or appetiser. All products can be purchased directly from Terra Rossa.
Click here to learn more about Terra Rossa