International Taste & Quality Institute (iTQi) Award
Zait & Zaatar Wins 2006 Superior Taste Award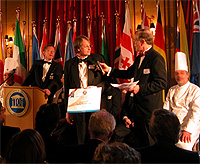 Terra Rossa, producers of Zait & Zaatar (Arabic for olive oil and thyme) are proud to announce that its Sinolea cold-drip extracted extra virgin olive oil and Zaatar thyme mix has received the prestigious Superior Taste Award 2006 with 2 Stars, reflecting a global sensory analysis score which includes taste, texture, aroma and visual appeal of more than 80%!
The Superior Taste Award is organized by the Brussels based International Taste & Quality Institute (iTQi) who is dedicated to identifying and rewarding superior tasting food and beverages.

Samples of products that are submitted annually for testing face a rigorous selection process by members of the 9 most prestigious European culinary institutions such as the Maîtres Cuisiniers of France and Belgium, the Académie Culinaire of France, the Federerazione del Cuochi Italiana, Euro-Toques and the International Sommelier Association. More information about the award can be found on its website at www.itqi.org.
"The Superior Taste Award celebrates years of intensive and continuous efforts by our company to offer an exquisite olive oil and a thyme dip in the UK and abroad", said Director of Terra Rossa, Chris James.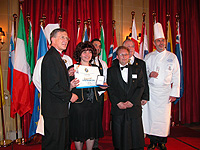 He added "We are very proud to receive one of the highest distinctions from such a well respected body of international culinary experts who are particularly demanding in their selection of absolute quality and taste. This award not only places our Zait & Zaatar among the very best in gastronomy, but this very sought-after seal of quality will help us promote our products and further reinforce our reputation as one of the leading producers of world class extra virgin olive oils".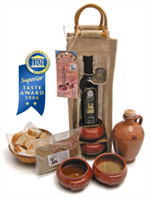 Terra Rossa officially received its award from iTQi during a ceremony on May 19, 2006 in Brussels.
For further information please contact Hanan Samara on 020 8661 9695 or hsamara@terra-rossa.com
Notes to Editors: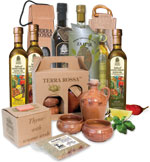 Terra Rossa produces two grades of extra virgin olive oils that are made from half-green hand-picked olives that are crushed with traditional granite stone and extracted using natural cold processes to preserve the sensitive aromatic properties, antioxidants and nutrients.
The main difference between the two oils is that the Sinolea is extracted using a Natural Cold Drip method and is unfiltered, while the Evoo is extracted using a centrifugal cold pressed method and is filtered. The new range of Lemon, Chilli and Basil flavoured oils are made from the Evoo range and will be available in the UK as of May 2006.
Terra Rossa's gourmet olive oils along with their delicious Zaatar thyme mix make the perfect healthy appetisers for lovers of fine food and those who care about the origin and the purity of the foods they consume.
Zaatar is made mainly of thyme, sesame seeds and sumac, and is traditionally eaten by dipping a piece of bread into the oil and then into the Zaatar. The oils are not only ideal for dipping, but are also great for drizzling over salad, houmous, cheese, yoghurt, vegetables, as a marinade or dressing for fish, chicken, lamb, or simply brushed on during baking and grilling for that incredible flavour.
Terra Rossa products are presented in elegantly packaged bottles, terracotta jugs with dipping pots and Zaatar bags, that are beautifully gift-packed in a wide selection of distinctive jute bags, natural corrugated cartons and hand-carved wooden boxes. An attractive display stand is also available which is offered on loan for customers who place orders of £1000 or more.
Retail prices start at: £2.75 for a 100g Zaatar pack, £4.95 for 250ml Evoo oil, £5.95 for 250ml Sinolea oil, to £19.95 for a hand made terracotta jug with dipping pots and 250g Zaatar in fancy corrugated carton.
The entire range is available on sale online, through a mail order service and a re-seller network of delicatessens and garden centres. Terra Rossa also hopes to attract buyers from the independent, multiple, gift retailers, and in particular, restaurants that wish to serve the oils and thyme dip as starters or appetisers. The oils, when combined with Zaatar, are also ideal for the foodservice sector especially for baking bread, pizzas, paninis, etc..